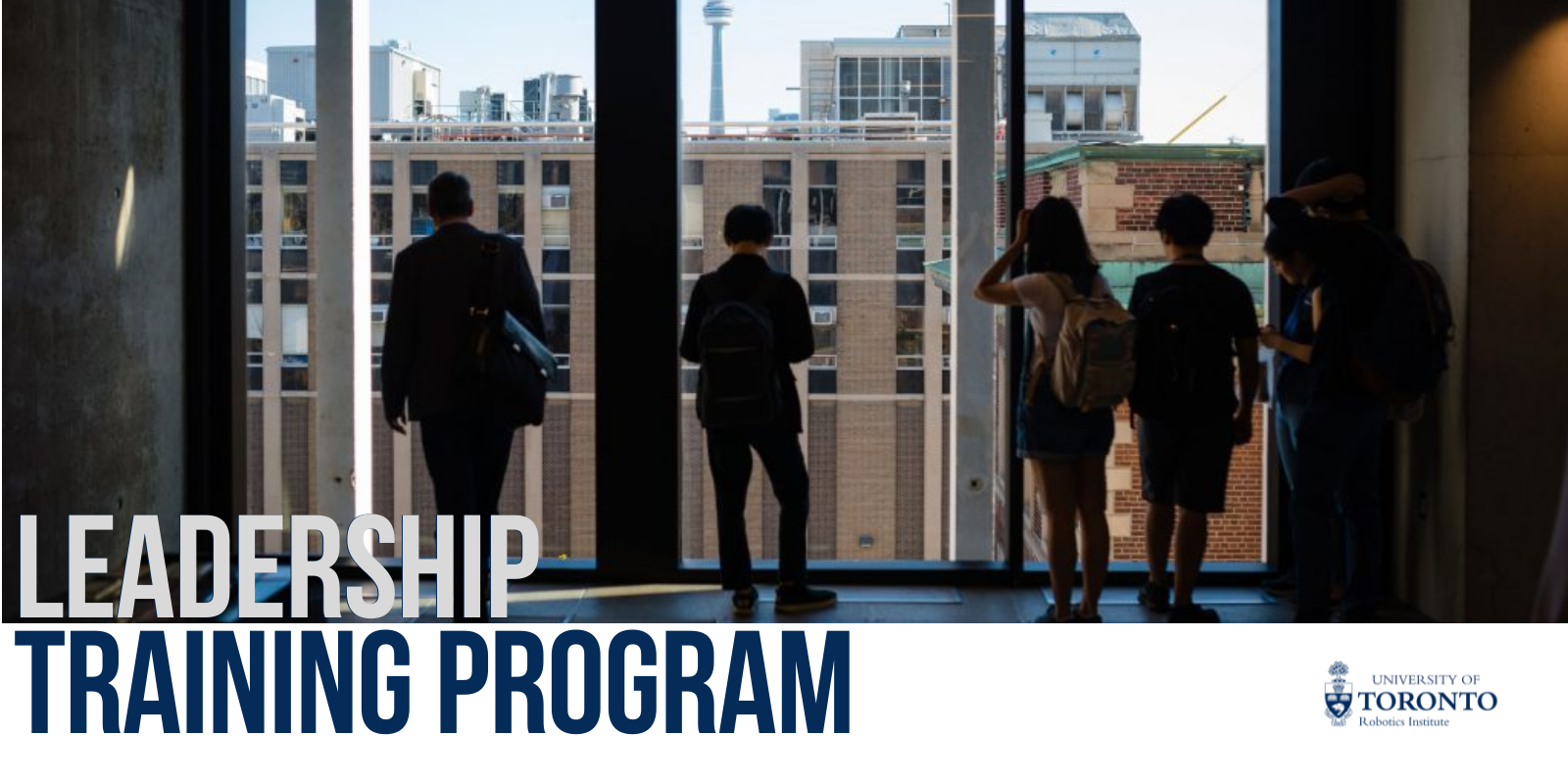 The Robotics Leadership Program (RLP) is an annual co-curricular graduate training program that will mentor and train the next generation of robotics leaders at the University of Toronto Robotics Institute. Inductees will develop skills and experience to be ambassadors for the public understanding of robotics, bridge-builders between technical and non-technical communities, advocates for equity and diversity in robotics and STEM education, and service-leaders in their own robotics communities.
Program Overview
The anticipated program launch is in 2022. Details about the program and application processes will be posted on this site when available. 
Program Mentors: All RLP trainees will be assigned a faculty mentor (must be a different person than current supervisor) who will help guide their development in the program, discuss career goals, and serve as a formal touch point for questions and issues.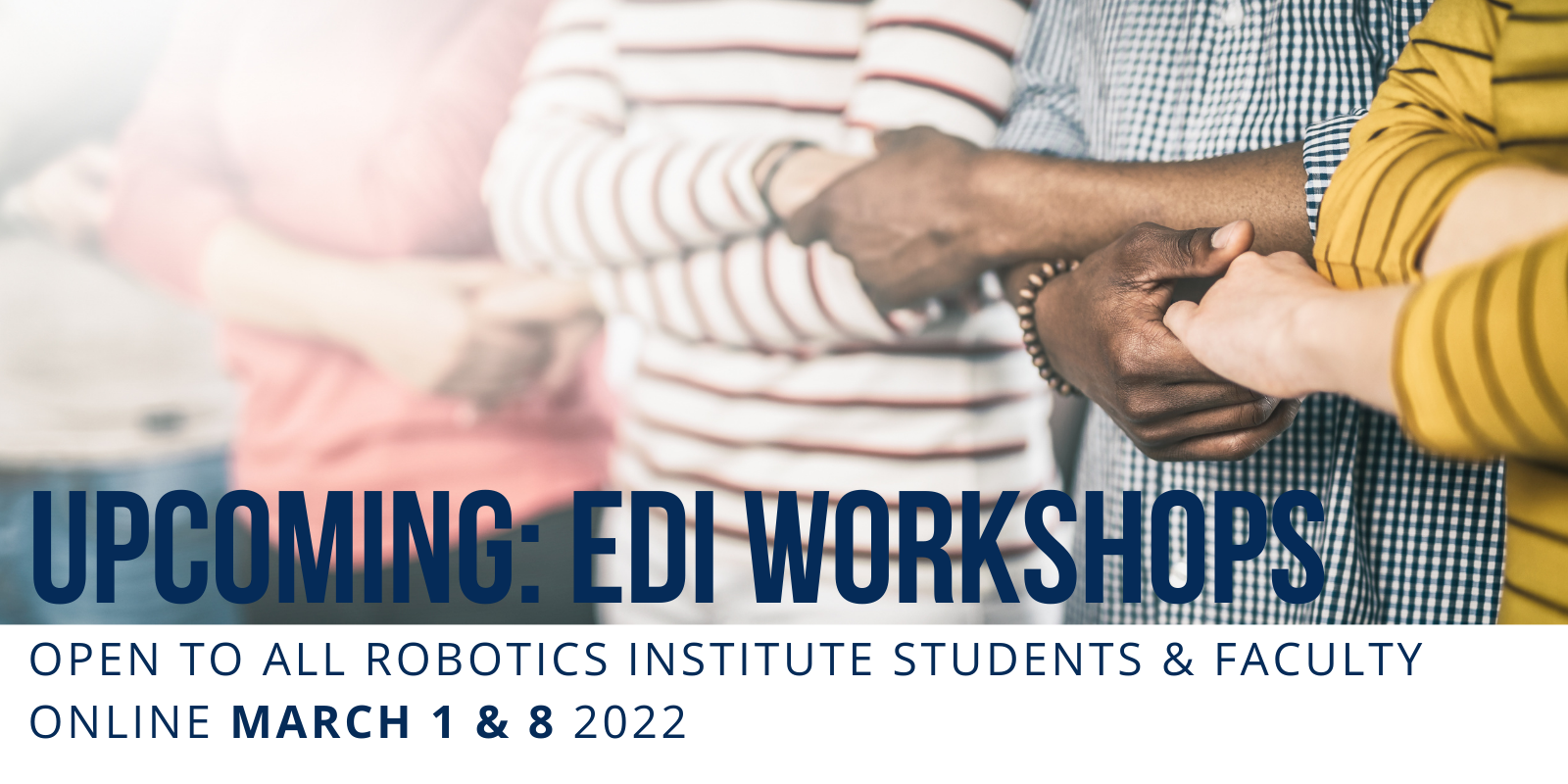 For all robotics institute students and faculty, we've arranged for a fantastic opportunity to further our strategic goals of equity, diversity, and inclusion (EDI), in two online sessions Mar 1 & 8 from 1-3pm. Are you a student looking for leadership training? Or a HeRo trainee who needs to fulfill a professional development activity? Have you heard about EDI but wondered how it applies to you and your work? Come join our training sessions!
Part I: Equity and Leadership: Tues Mar 1 | 1 – 3 pm ET | Online
In this session, you will begin to explore your role as an engineering changemaker. Using frameworks, models, and personal reflection, you will examine the intersection of equity, diversity and inclusion (EDI) and leadership. You will reflect on your identity and social location, and use this knowledge to explore the concept of inclusive leadership.
Prior to this session, you will complete a 1 hr Quercus module that addresses foundational concepts of equity, diversity and inclusion. The module will be available on Monday February 14 and must be completed by Monday February 28 at 12 pm ET.
Part II: Taking Action with Liberatory Design: Tues Mar 8 | 1 – 3 pm ET | Online
Building upon Part I, this session will support you to take action on your new learning. You will use liberatory design to apply EDI to your context as a graduate student, postdoctoral fellow, and researcher. You will develop an equity-based process and leadership habits to address an equity opportunity or challenge. You will leave this session with ideas and action to lead change.
*You must complete Part I to participate in this session.
These sessions are run by the Troost Institute for Leadership Education in Engineering, and are being offered in part thanks to the HeRo NSERC/CREATE grant.
To sign up and attend, please email Program Manager Kimberly Colburn to reserve your space.
Periodic workshops (1-2 hours each) will focus on developing trainees' ability to present their research to a non-expert audience, develop leadership skills, enhance Equity, Diversity, and Inclusion (EDI) awareness.
Some workshops will be open to all UofT robotics members, but attendance will be required for RLP trainees.
Topics may include:
Robotics 3MT Practice Workshop

Writing about your robotics research for a general audience 
How to talk to the press and news media about robotics
Scoping robotics outreach activities for young audiences, older

adult education, and community development

Making a great robot video: Video production techniques 
Landing your first robotics job, and where to go from there 
Understanding the economic impacts of robotics and automation

 
History of robotics

Robot Ethics / Ethical robot design
Using knowledge gained from workshops, leadership trainees work with mentors in an outreach or communications skills development activity of their choice.
Example activities might include: creating and delivering a robotics module for one of the many robotics-themed camps already running at UofT (Blueprint, Launch, Engage, and Girls Jr. Deep), organizing a community outreach event involving local elementary or highschool students or seniors, planning an event for prospective students, or producing a podcast or video for the general public. 
Students who complete the full program will receive a "Robotics Institute Graduate Leader Certificate". To receive the certificate, RLP trainees must submit an application dossier containing:
A list of the workshops they attended. Substitute programming may be considered in the event that a student had to miss a workshop. It is the responsibility of the student to arrange their own substitute and seek approval of their mentor for the substitution.

Brief description of the outreach/service event they led and why it meets the leadership criteria. 

Next steps/goals: A brief, clearly articulated vision for their long term leadership goals and how they plan to develop their leadership further

If students wish to self-nominate for the Robotics Leadership Award, a one-page letter detailing why they should be considered for this award.