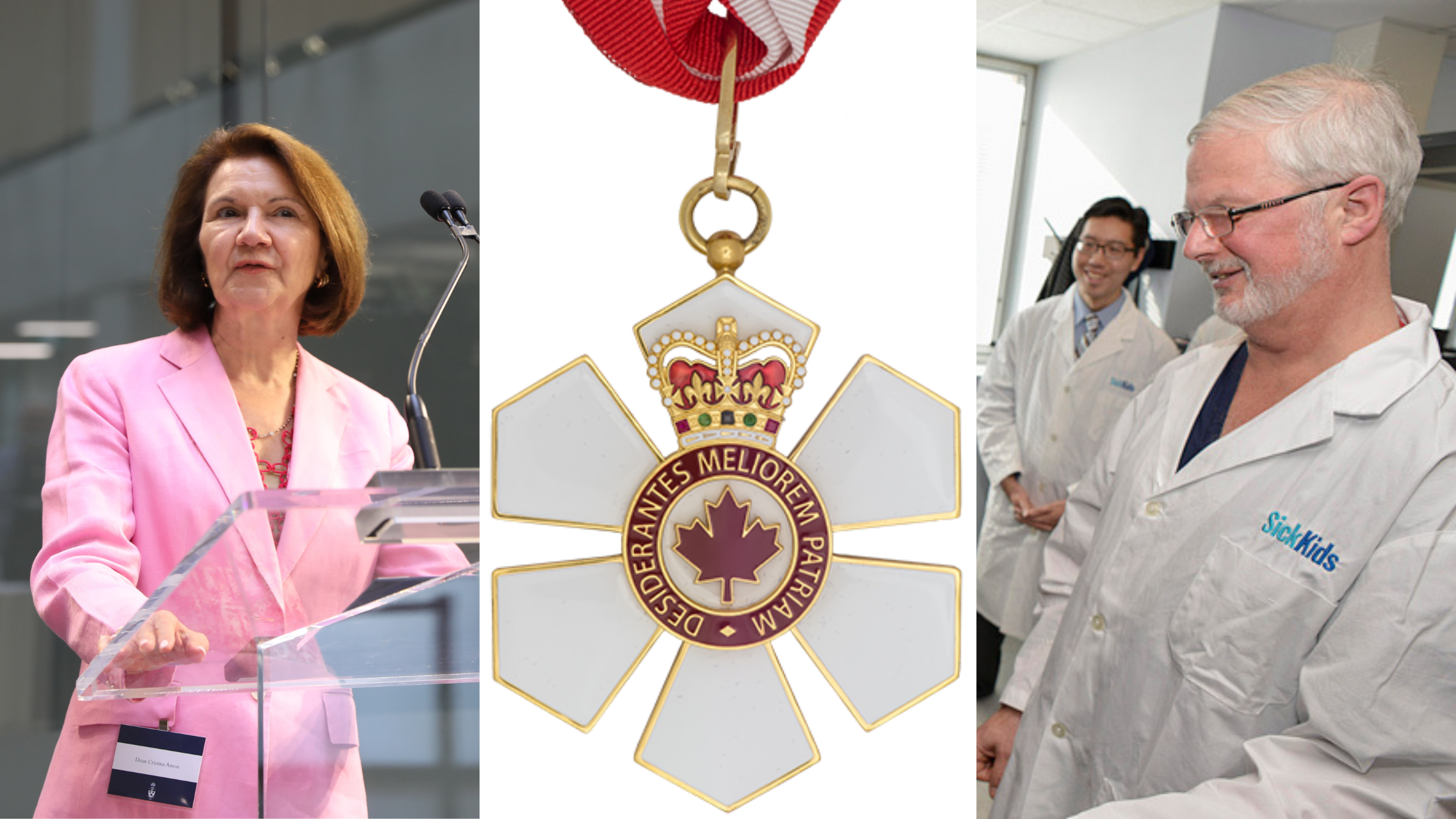 University of Toronto Professors Cristina Amon and James Drake have been named to the Order of Canada, Canada's highly prestigious award honouring those who have made extraordinary contributions to the nation. Amon and Drake have also made instrumental contributions to the development of the robotics community at the University of Toronto.
Cristina Amon received the Order of Canada for her contributions to the advancement of the field of engineering and to research and innovation across Canada. During her thirteen-year tenure as the Dean of Engineering (2006-2019), Amon helped shape dozens of initiatives from across FASE, was a mentor to faculty and students alike, and was a champion for diversity and inclusion, tripling the number of women faculty members from 20 to 57. It was also under her tenure that the UofT Robotics Institute was envisioned, created, and given a home within the Myhal Centre for Engineering Innovation & Entrepreneurship — the construction of which was another of Amon's key legacies to the UofT community.
Amon has long been a champion of robotics at UofT. It was during her tenure as Dean that the Robotics Institute's precursor, the Institute for Robotics and Mechatronics (IRM) was formed in 2010 with support from the Dean's Strategic Fund. It was also under Amon's watch that the Faculty of Engineering and the IRM launched its robotics-focused educational offerings: the undergraduate Engineering Science Major in Robotics, the undergraduate Minor in Robotics & Mechatronics, and the Graduate Emphasis in Robotics. Amon is also a known champion of student leadership opportunities. Thanks to sponsorship from the Dean's Strategic Fund, the university's student-led self-driving car team — aUToronto — was launched and has since emerged as a three-time winner of the SAE AutoDrive Challenge.
Recognizing the emergence of robotics as an interdisciplinary growth area, in 2017 Amon sponsored a strategic planning initiative that brought together robotics stakeholders from across Engineering, Computer Science and the Partnerships offices to make recommendations on how to keep UofT globally competitive. As a direct result of this initiative, robotics became a named theme within the UofT 2018-2023 Strategic Research Plan and the Faculty of Applied Science & Engineering 2017-2022 Academic Plan, and the decision was made to rebrand the IRM as the University of Toronto Robotics Institute — a new cross-divisional entity that would enable coordination of robotics research and education activities across departments, faculties, and campuses.
The Robotics Institute officially launched on July 1, 2019. During the launch event, Amon remarked that: "The talent of our students and faculty is undeniable. With the launch of the University of Toronto Robotics Institute, we are strengthening our position as one of the world's premier destinations for robotics education and research." Thanks to Amon, the University of Toronto Robotics Institute is now home to the largest and most diverse robotics research program in Canada, with a mandate to unite, grow, and catalyze collaborations among the many exceptional robotics research clusters at the University and its partner organizations, and serve as the headquarters for robotics at UofT.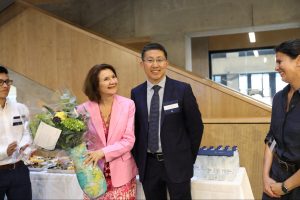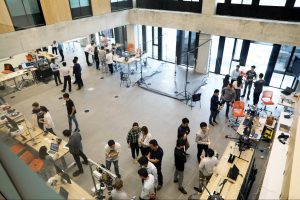 Cristina Amon at the Robotics Institute Launch, May 25, 2019. Credit: Elizabeth Do.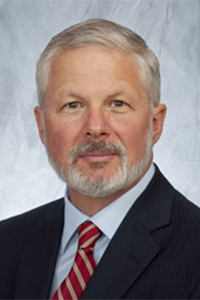 James Drake received the Order of Canada for his leadership in the field of pediatric neurosurgery and for his contributions to the treatment of complex childhood disorders. Drake is one of the co-grantees of Robotics Institute's HeRo CREATE  graduate training program in healthcare robotics, sharing his expertise in the role of robotics in pediatric surgery. HeRo is the first robotics-focused graduate training program to cover the entire continuum of care from hospital to home, advancing the frontiers of robotics research by tackling challenges in surgery, assistance and rehabilitation — three domains where robots are having the biggest impact in healthcare. In addition to his work with the Robotics Institute, Drake is a senior associate scientist at the SickKids Research Institute, and leads CIGITI — the Centre for Image Guided Innovation and Therapeutic Intervention — a nexus of clinicians, engineers, scientists and business people working together to create a new paradigm for delivering medical care to children and adults. This unique open-source research facility is developing innovative technologies in robotics, ultrasound, simulation, training and healthcare.
As the lead for CIGITI, he has supervised and been involved in numerous surgical robotics and training projects in various clinical areas such as neurosurgery, head and neck surgery, general surgery, cardiac surgery, urology, and orthopedic surgery as well as medical devices for emergency medicine and pharmacy. In 2015, a team from CIGITI was named the Overall Winner and Best Design Prize for the Hamlyn Surgical Robot Challenge. Subsequently, in 2018, the team was also awarded the Best Design Prize in the same competition. The lab has been the home to a mix of high school, undergraduate and graduate students from the Institute of Biomedical Engineering, Mechanical & Industrial Engineering, Engineering Science, Computer Science and Medicine. To date, the group has supported numerous capstone projects, provided research experiences for 50+ summer/coop positions and been a home to 3 National Vanier Scholars. Students have graduated to a diverse set of opportunities that include medical and robotic start-up companies such as Auris Health, Boston Dynamics, ForceN, Simulare, Revolve Surgical. Researchers and students are encouraged to work closely with clinical staff to understand and solve front line clinical problems.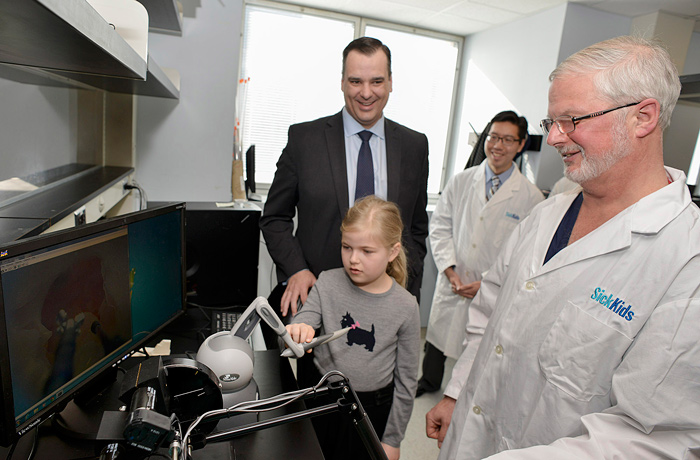 L to R, Dr. James Drake, Lead of the Centre for Image-Guided Innovation and Therapeutic Intervention and Co-Lead of the Centre for Image-Guided Care at SickKids; Minister Moore; Camryn Nowak, SickKids patient and ambassador)
The Order of Canada was created in Canada's centennial year, 1967, and more than 7,000 people from all sectors of society have since received the honour. The Order's motto is Desideranted meliorem patrium ("they desire a better country"), but big change is made in small steps, and better countries are willed into existence one community at a time. The Robotics Institute is proud of Amon's and Drake's greater contributions to Canada, and indebted for their contributions to building a strong and vibrant robotics community here at UofT. We extend our hearty congratulations on their awards.