2023 Robotics Institute 3-Minute Thesis Competition
Friday, November 3, 2023 | 3 p.m. | MY580
In three minutes or less, present your robotics thesis or research paper to a panel of diverse judges. Register by October 27 2023 to compete!
More
1st Place Winner will go on to represent the Robotics Institute at the 2024 U of T 3MT.
More
Congratulations to our 2023 3MT Winners!
First place: Daniil Lisus (centre) / Second place: Mustafa Haiderbhai (centre right) / Third place: Chloe Pogue (centre left)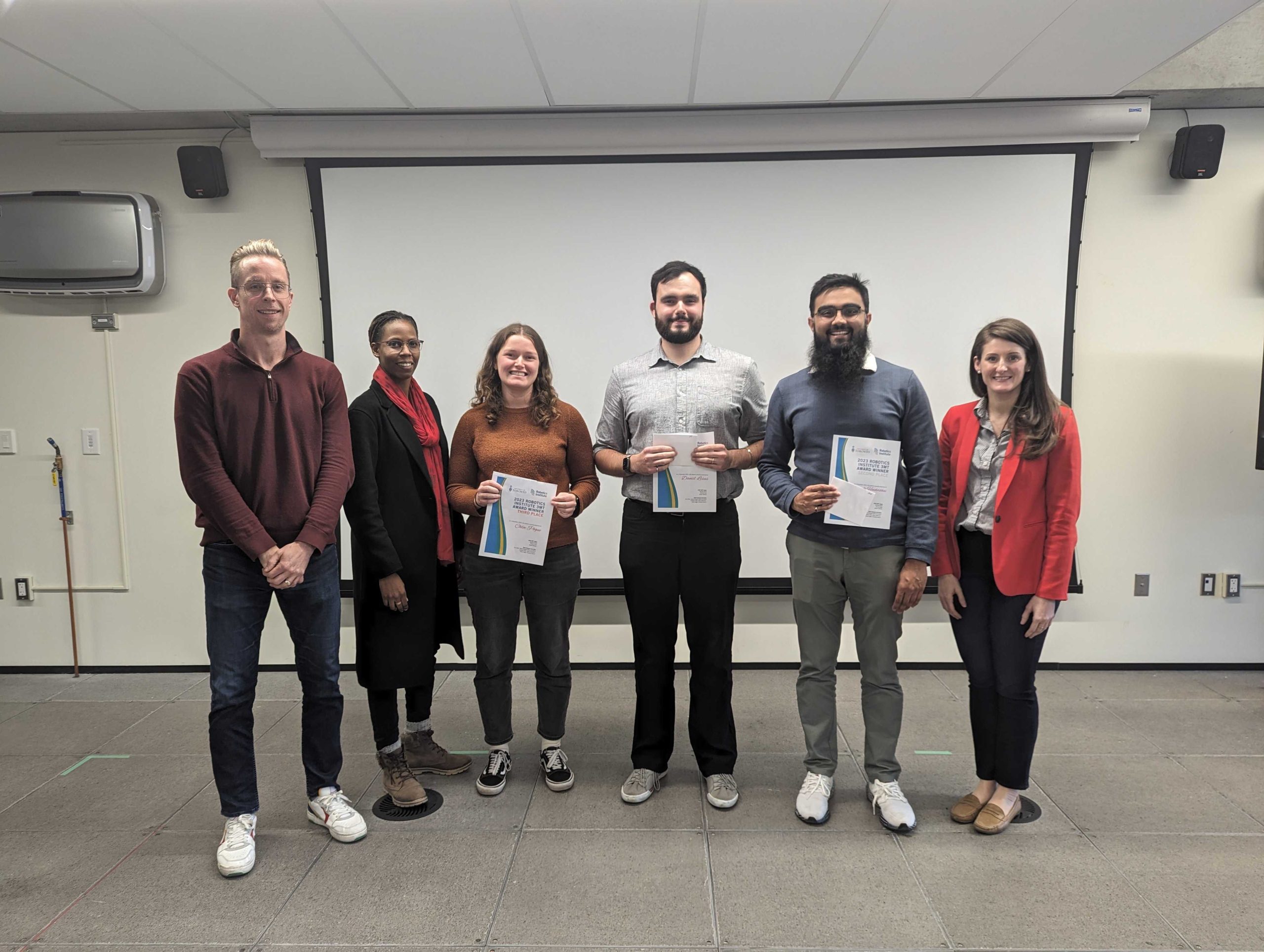 It took you months to write your research paper.
Now you've got three minutes.
The Robotics Institute Three Minute Thesis Competition is a fun and informal chance to distill your research and hone your presentations skills for a general audience. You'll develop the skills needed to present complex research information in an engaging, accessible, and compelling way.
Eligibililty & Registration
The Robotics Institute 3MT Competition is open to all graduate (Masters and PhD) students and Post Docs who are supervised by University of Toronto Robotics Institute faculty.
You may present your thesis or recent research.
Limited competition spots are available. If the sign-up spreadsheet is full, please add your name to the waiting list!
Three awards will be presented: 1st prize, 2nd prize, and 3rd prize. The 1st Prize Winner will be eligible to enter directly into the U of T 3MT.
| Presenter | Talk title |
| --- | --- |
| Daniil Lisus | Rain or Shine: Autonomous Driving in All Weather Conditions |
| Daniel Guo | Let it Go: Learning Autonomous Navigation through Joyrides |
| Erik Fredin | Small tools, big leaps for neurosurgery |
| Chengnan Shentu | Sensing the shape of continuum robots from a single camera |
| Mustafa Haiderbhai | Teaching Robots To Do Surgery! |
| Hannah Smegal | Ageless Innovation: Wearable Robotics for Mobility and Independence |
| Chloe Pogue | Improving Continuum Robot Stiffness Through Robot Joining |
| Paul Kang | Finding the Best Path for Epilepsy Surgery |
| Daniel Sieben | Magnetic Capsules: Interacting with your Insides |
| Nirmal Pol | Optical Coherence Tomography (OCT) Imaging: Unleashing Robots with Microscopic X-Ray Vision |
Myrtede Alfred
Assistant Professor, Industrial Engineering
Department of Mechanical & Industrial Engineering, U of T Engineering
Adriano Vissa
Executive Director, Partnerships
U of T Engineering
Rachel Wallace
Associate Director, Strategy & Business Development
Lassonde Institute, U of T Engineering
It took you months to write your research paper.
Now you've got just 3 minutes.
Are you ready to compete?