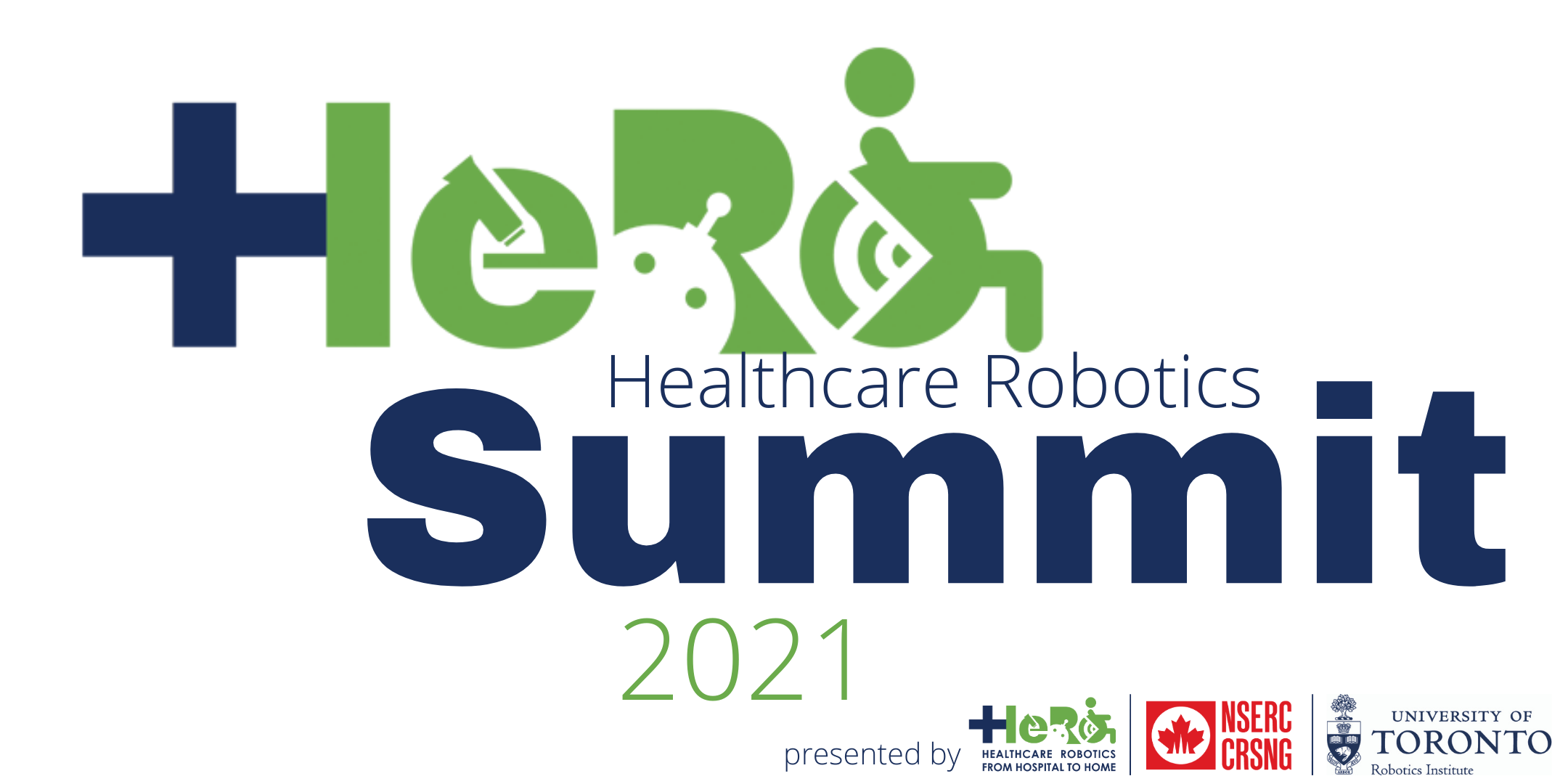 Feb 8:
Healthcare robotics from hospital to home
9am - 1pm ET
Time

Activity

Who

9:15am - 9:30am
Welcome and Introduction
Yu Sun
9:30am-10:30am
Panel: How might we maximize adoption of healthcare robotics in clinical settings?
Moderator: Animesh Garg Panelists: Vitor Pereria, Tim Fielding (MDA), Aman Thind (Conavi)
10:30am-10:45am
Break
10:45am-11:50am
Panel: How can healthcare robotics be used to support independence living and therapeutic goals of patients?
Moderator/researcher: Rosalie Wang; Panelists: Ron Beleno, Milad Alizadeh-Meghrazi (Myant)
11:40am-12:10pm
HeRo Trainee Presentations
Changsheng Dai; Kabriya Thavaratnam; Lyle Gauthier; Mahsa Khalili
12:10-12:15pm
Thank you/instructions for Zoom networking
Yu Sun/Kimberly
12:15pm-1:00pm
Networking
Panel: How can we maximize adoption of healthcare robotics in clinical settings?
This panel will explore the many challenges to improving adoption of healthcare robotics technology in clinical settings, from usability, cost, regulatory hurdles and reliability.
Moderator: Animesh Garg
Animesh Garg is an Assistant Professor of Computer Science at UofT and a Faculty Member at the Vector Institute and director the People, AI and Robotics (PAIR) group. His research focuses on machine learning algorithms for perception and control in robotics, and is currently working on mobile-manipulation in surgical robotics.
Vitor Mendes Pereira
Dr. Vitor Mendes Pereira is a neurosurgeon specialized in minimally invasive procedures of the intracranial and spinal circulation and percutaneous spinal interventions for pain management. He is a Professor of Medical Imaging and Surgery at the University of Toronto and Staff Physician at the Toronto Western Hospital and Hospital for the Sick Children.
Tim Fielding (MDA)
Tim Fielding is the Product Development Manager for Medical at MDA. MDA is Canada's leading space company and has decades of experience with robotics for space missions. Tim has worked on applying know-how from space programs to medical robotics with a variety of academic and commercial partners.
Aman Thind (Conavi)
Aman Thind is the CTO and a co-founder of Conavi Medical. Conavi Medical is a Toronto based medical device company that provides catheter based image guidance solutions for the interventional cardiology community. He completed a PhD at the University of Toronto in Medical Biophysics.
Panel: How can healthcare robotics be used to support independent living and therapeutic goals of patients?
This panel will explore how healthcare robotics can be used in the home or outside of clinical settings, and discuss the challenges and benefits to wider implementation.
Moderator: Rosalie Wang
Rosalie Wang is Assistant Professor of the Department of Occupational Science and Occupational Therapy at UofT. She is an Affiliate Scientist at Toronto Rehabilitation Institute and a member of their AI and Robotics in Rehabilitation team. She focuses on developing and implementing technology to enable daily activity of seniors and post-stroke rehabilitation.
Ron Beleno
Ron is an advocate for dementia, caregiving, aging, and research communities. As a caregiver to his father who lived with Alzheimer's for 10+ years to age in place at home, Ron utilized technology, community, creative strategies and access to research to support his family's life to live well and as best as possible. He is involved with institutions such as AGE-WELL NCE, Centre for Aging and Brain Health Innovation (CABHI) at Baycrest, City of Toronto's Seniors Strategy, SE Health and the Translational Research Program (TRP) at the University of Toronto's Faculty of Medicine. In recent years, Ron has been invited to do presentations locally and internationally for Alzheimer's/Dementia Societies, communities, police, educators, healthcare, innovators and corporations. He shares his knowledge on caregiving as we age, ways to use technology for caring, and living safely with dementia, especially for those at risk of wandering and going missing.
Milad Alizadeh-Meghrazi (Myant Inc.)
Milad is a mechanical/biomedical engineer from UofT. During his tenure as a research engineer at the Toronto Rehabilitation Institute, he collaborated with physicians, physio-therapists and fellow researchers studying neuro-muscular and skeletal issues in the spinal cord injury (SCI) and stroke populations. He subsequently applied engineering principles for the design, development and testing of technologies that could improve quality of life for these individuals. Overseeing the R&D efforts at Myant, his goal is to translate science and technologies, which have been proven in the realms of academia and research, into a textile medium. The vision is that the future of healthcare is through enabling and empowering users, which could be facilitated via smart textiles. This need is ever more poignant as the push for continuous and remote monitoring/therapy is needed in light of the COVID-19 pandemic.
Feb 19:
Deeper understanding of academic research & development space
1pm - 5:00pm ET
| Time | Activity | Who |
| --- | --- | --- |
| 1pm - 1:05pm | Welcome and Introduction | Yu Sun |
| 1:05pm-1:30pm | HeRo Trainee Presentations | Muhammad Raisul Alam; Jongwoo Kim; Cidnee Luu |
| 1:30pm-2pm | Keynote: Rehabilitative Robotics | Alex Mihailidis |
| 2:00pm-2:20pm | HeRo Trainee Presentations | Zhiling Zou; Mehdy Dousty; Meena Fatah |
| 2:20pm-2:30pm | 10 minute break | |
| 2:30pm-3pm | Keynote: Assistive Robotics | Goldie Nejat |
| 3pm-3:30pm | Keynote: Surgical Robotics | James Drake |
| 3:45pm-4:30pm | AMA forum with faculty | Goldie Nejat, Yu Sun, Eric Diller, Andrew Goldenberg, Rosalie Wang, Animesh Garg |
| 4:30pm-5pm | Reflection on topics and wrap up | Animesh Garg |
Keynote: Rehabilitative
Alex Mihailidis is a Senior Scientist at TRI-UHN and a Professor at IBBME
and in the Occupational Science & Occupational Therapy Department at UofT, and is the Scientific Director and CEO of the AGE-WELL NCE. He is a recognized expert in pervasive computing and intelligent systems in health. His research focuses on developing intelligent home systems for elder care and wellness and rehabilitation technologies, including robotics in stroke rehabilitation.
Keynote: Assistive
Goldie Nejat PhD, P.Eng. is the Canada Research Chair in Robots for Society and a Professor in the Department of Mechanical & Industrial Engineering. She is also the Founder and Director of the Autonomous Systems and Biomechatronics Laboratory (asblab.mie.utoronto.ca). Professor Nejat is an Adjunct Scientist at both the Toronto Rehabilitation Institute and the Rotman Research Institute at Baycrest. She is a Fellow of the Canadian Institute for Advanced Research (CIFAR). She is a world renowned expert in the development of intelligent socially assistive robots for applications in health and elderly care, for use in healthcare facilities and private homes.
Keynote: Surgical
Dr. James Drake is a Professor of Surgery, Division Chief of Pediatric Neurosurgery at the Hospital for Sick Children and holds the Harold Hoffman Shoppers Drug Mart Chair. He is a Senior Associate Scientist in the Sickkids Research Institute, leads the Centre of Image Guided Innovation and Therapeutic Intervention (CIGITI) and is co-lead of the Centre of Excellence in Image Guided Care.