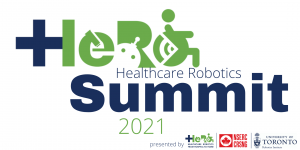 The HeRo/CREATE graduate training program at UofT's Robotics Institute is hosting its first healthcare robotics summit next month, on February 8th and 19th. This will be a broad-based 2-day overview of the scope of Canadian healthcare robotics touching on the three pillars of rehabilitative, assistive and surgical robotics. This event is free and will take place virtually. Register to attend here. 
HeRo's primary investigator and Robotics Institute director Yu Sun says, "The Summit will pull together faculty, HeRo trainees, industry leaders, and end users, creating a great platform for these stakeholders of healthcare robotics to share their research and perspectives." He adds that the Summit is a direct result of NSERC's CREATE program, "providing top-notch training and knowledge transfer opportunities that wouldn't otherwise exist." 
Day One of the Summit, February 8th, is themed "Healthcare robotics from hospital to home," and will showcase examples of healthcare robotics in various settings – their value, operations, and challenges. Two panels will cover how robotics might be valuable in clinical settings and how it can support the continuity of care: : How might we maximize adoption of healthcare robotics in clinical settings? moderated by Animesh Garg and How can healthcare robotics be used in team-based medicine to support independent living and therapeutic goals of individual patients? moderated by Rosalie Wang. 
Day Two of the Summit, February 19th, is themed "Gaining a deeper understanding of academic research and development space in healthcare robotics" and will feature three keynote speeches by HeRo faculty on the pillar areas. Alex Mihailidis, UofT professor in Occupational Science & Occupational Therapy Department and Scientific Director of the AGE-WELL NCE, will speak on rehabilitative robotics. The assistive robotics keynote will be given by Professor Goldie Nejat, an expert in the development of intelligent socially assistive robots for applications in health and elderly care. Division Chief of Pediatric Neurosurgery at the Hospital for Sick Children, Professor James Drake, will speak to the surgical robotics pillar. 
During the SummitHeRo Trainees will have the opportunity to introduce their research, briefly presenting to their peers, faculty, and the industry representatives in attendance. The trainee presentations, panels, keynote speeches, and networking opportunities of the HeRo Summit will create space for conversation and knowledge sharing across the healthcare robotics community. 
For a full schedule of events, including the most up-to-date panelist and keynote speaker information, check out the HeRo Summit website.