Time travel with this control systems math prodigy and find out how a "three-legged pedagogical stool" approach helped him become an award-winning scientist who made the "first real space robotics" possible.
by Joan DaCosta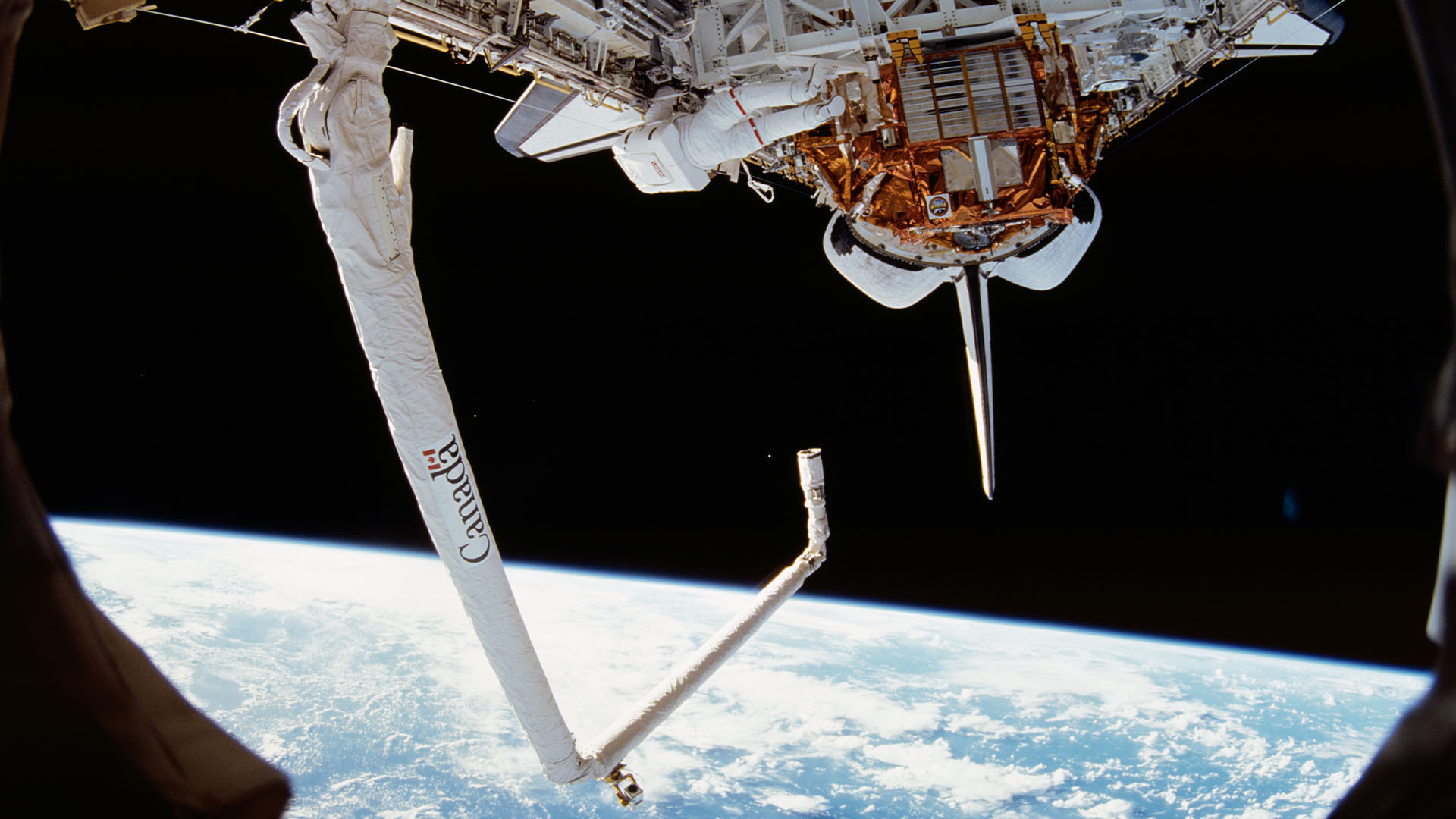 Photo credit: NASA/Winston Scott (1996)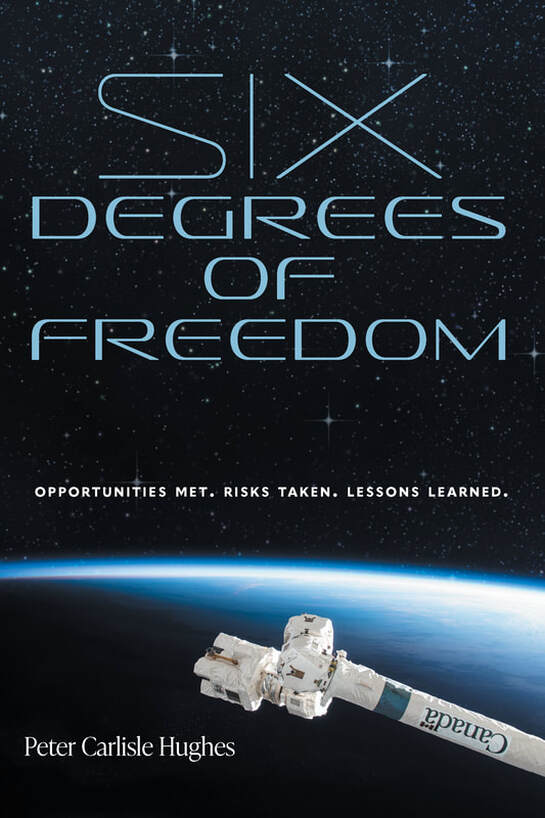 Professor Emeritus Peter Hughes describes his latest book, Six Degrees of Freedom, as the shuffling together of a memoir and a technical discussion of his career – and that gets it just about right.
Who is Hughes? Hughes was the brains behind cracking the six degrees of freedom (6-DoF) problem that made the design and tremendous success of the Canadarm possible (which you can read all about here).
In this engaging chronicle of his life, the title refers not only to "the most important research project" of his career, but to six decisions Hughes made that changed the course of his life. To begin, Hughes spins tales in which he stars as someone who absolutely loved his childhood. Not surprisingly he excelled at school in most areas, especially math. He also excelled at socializing, and he "didn't wait until recess", which consistently gave him low marks for conduct! However, he put his gift of gab to good use at summer camp and at age 11 became president of the camper's council by boldly promising to get the camp to install a giant water heater at the end of the dock so the water would be warm for their morning swims (no, it did not happen:).
In grade ten, Hughes encountered a geometry teacher who would change his life. Mr McIntyre had red hair and went by the name of Rusty: "I can't recall his first name, but I'm pretty sure it wasn't Euclid." McIntyre might not have been a Euclid, but he was an astute and caring teacher who recognized Hughes' mathematical gifts, and so he developed a program of study specifically for Hughes. Hughes refers to this program as a three-legged pedagogical stool that included acting in school plays, playing basketball (not because he was athletic, but because he was tall), and accelerated math studies.
Hughes loved the acting and he practised basketball with great enthusiasm, but it was his math studies that really took off. It was evident that he had a passion and an extraordinary gift for algebra, trigonometry, and analytical geometry … so much so that when he was in grade twelve, he was tutoring grade thirteen students who were preparing for the Ontario Departmental Exams.
Fortunately for Hughes, the school principal, Mr Black, had been taught by the first UofT recipient of a PhD in mathematics – Prof Samuel L Beatty. Black suspected that Hughes was a math prodigy, so in 1956, when Hughes was between grades eleven and twelve, Black contacted Prof Beatty, by then Chancellor of UofT, to ask him to meet with Hughes. After spending some time doing math together, Beatty stated that Hughes would do very well at UofT either in Honours Math or in Engineering Science. This statement would lead to the first of the 6-DoF decisions that Hughes had to make.
Ultimately, Hughes chose Engineering Science because he thought it would allow him to earn a better living and because he wanted to apply his learning to real-life problems that contributed "measurably" to society. And Peter Hughes did indeed contribute to society. Not only did he solve the 6-DoF problem for the first Canadarm, and extend that work for Canadarm2, he had a very successful career as a professor at the University of Toronto Institute for Aerospace Studies.
In 1980, Hughes also formed Dynacon Inc, a spinoff from his Canadarm work. This led to three important achievements: 1) the dynamics modelling for Canadarm2; 2) becoming the lead on the first scientific satellite Canada launched into space; and 3) launching a successful spinoff from the Canadarm2 technology for a medical robotics business. The spinoff company was part of the Canadian Space Agency's promise to taxpayers that their investment in the Canadarm would be used for a technology transfer.
Prof Peter Hughes received the prestigious Alouette Award from the Canadian Aeronautics and Space Institute in 2006, ". . . for outstanding contributions to advancement in Canadian space technology, application, science and engineering"; and the John Chapman Award from the Canadian Space Agency in 2007 for his overall important contributions to space science, including his work on Canadarm and Canadarm2.
Like most original thinkers, Professor Emeritus Peter Hughes is a rebel. This means you won't always agree with him, but he's okay with that because he is always ready for a good discussion.
Hughes is a natural storyteller who writes with honesty and humour. His personal charm comes through his pen to welcome the reader into a world from the past that has spanned the spectrum to affect our future.
As work begins on Canadarm3, which will be part of NASA's Lunar Gateway program to send humans deeper into space, we have to remember that none of this would have been possible without the original work of Prof Peter Hughes – a true robotics trailblazer!