In June, the first-ever University of Toronto Robotics Institute end-of-year celebration brought together faculty, students, staff, partners and friends from across the University of Toronto's St. George and University of Toronto Mississauga (UTM) campuses to mark a year of progress, leadership and research excellence.
Professor Jessica Burgner-Kahrs, Associate Director of the Robotics Institute, welcomed everyone to the event and shared several of the community's collective accomplishments and achievements over the 2022-23 academic year. This included: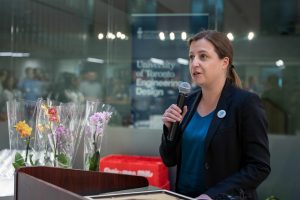 "These achievements, and the Institute's new presence, continue to build on the university's rich history of research and excellence, and together we will continue to shape the future of robotics at the University of Toronto and across Canada," said Burgner-Kahrs.
Recognizing student leadership
Four graduate students were recognized by the Robotics Institute Outreach Committee for their exceptional leadership and service to the community. Professor Eric Diller, Outreach Committee Chair, presented the newly launched Robotics Leadership Awards.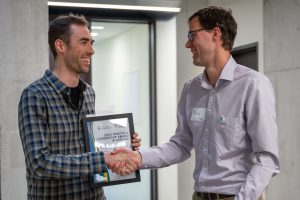 Olivier Lamarre received the 2023 Robotics Leadership Award in Service for launching a tutorial series to provide graduate students with the opportunity to develop new technical skills through knowledge sharing and community building. 
Haley Mayer received the 2023 Robotics Leadership Award in Outreach for an ongoing commitment to building community through mentorship, advocating for equity, diversity and inclusion in robotics, and promoting robotics education among primary and secondary school students.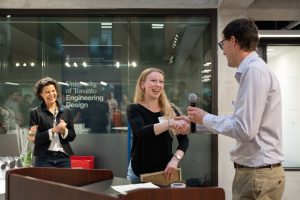 Mia Thomas received the 2023 Robotics Leadership Award in Service — Honourable Mention for helping launch the Women in Robotics Ontario Chapter as a founding member, and demonstrating an ongoing commitment to elevating youth and underrepresented groups in robotics through resource sharing, mentorship and community building.
Connor Holmes received the 2023 Robotics Leadership Award in Outreach — Honourable Mention for helping lead outreach and stakeholder activities that support and bolster robotics education in Canada. 
Attendees also heard from Robotics Leadership Training Program trainees, Sven Lilge, Adam Heins and Yunqi Huang, who presented on their final outreach project and leadership journeys as part of the program. They highlighted how the program equipped them with skills that extend beyond the lab and into the professional world, including communication, community building and stakeholder engagement.
Spotlight on staff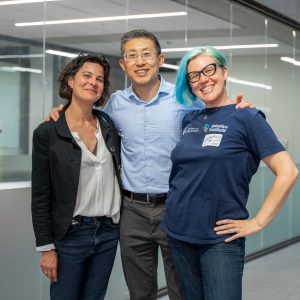 Professor Yu Sun, Director of the Robotics Institute, took a moment to recognize and thank staff, Kimberly Colburn, Program Manager, Amanda Hacio, Senior Communications Officer, Ruthrash Hari, Robotics Lab Technician – UTM, Connor Jong, Robotics Lab Technician – Myhal, and Hallie Siegel, Managing Director, Strategy & Partnership, for their dedication and many contributions over the last year — from supporting students and research activities, to helping establish a local, national and global presence for the Robotics Institute.
Inspiring the next chapter
The end-of-year celebration marked the first of many, and demonstrated that as the robotics landscape continues to evolve, collaboration and community are key to helping shape its future in Canada. Stay updated on what the Robotics Institute is up to next, by signing up for our mailing list.